Immune Thrombocytopenic Purpura (ITP)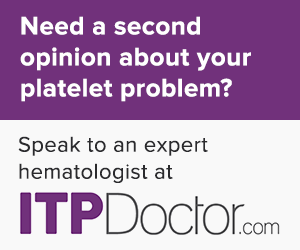 A disorder where platelets decrease in number due to decreased production in the bone marrow and increased destruction in the blood. This can lead to an increased risk of spontaneous bruising or bleeding (without injury), especially when the platelet count drops below 30,000 cells per microliter of blood.
I = Immune, ITP is caused by a disturbance in the immune system
T = Thrombocytopenic, a medical term meaning low platelet count
P = Purpura, a type of bleeding in the skin
ITP is NOT a cancer, but it is commonly managed by hematologists (blood doctors) who often treat blood cancers as well. ITP is an uncommon condition and may be caused by auto-immune disorders, infections, certain medications, or pregnancy. However, in many cases, a cause cannot be identified which gives rise to its other name-idiopathic (meaning "cause unknown") thrombocytopenic purpura. Although ITP may spontaneously resolve, for some patients lifelong therapy may be needed.
The effectiveness of medications may depend upon the causes of ITP and the ability to remove these causes, or whether a splenectomy (removal of the spleen) has been performed, or is able to be performed.
Deciding on a treatment for ITP is in a way like buying, owning, and driving a car. Think about the following similarities to help you understand which treatment is right for you:
BUYING: "0 - 50 time" (0 to 50 k/µL platelets, instead of 0 - 60 m.p.h) is an important performance feature
Once the platelet count exceeds 50 k/µL, bleeding episodes are rare. Therefore, the time it takes to go from very few platelets to a platelet count over 50 k/µL matters. In general, steroids such as prednisone and dexamethasone have the fastest "0 - 50" time.
Although exceptions, the thrombopoeitin receptor agonists romiplostim and eltrombopag usually have a 0 - 50 k/µL platelet time of 1 - 2 weeks
Although exceptions, one-half of rituximab recipients have a 0 - 50 k/µL platelet time below 5.5 weeks, and the other half over 5.5 weeks. The response to rituximab is often unpredictable
OWNING: Warranty offered?
A 5-year bumper-to-bumper warranty helps us worry less about something breaking or going wrong with our vehicle after we buy it. Likewise, not all medications used for ITP have a long-lasting effect in keeping the platelet count above 50 k/µL.
When it works, rituximab can work for 1 - 2 years, but lasting responses beyond two years are rarer. The 5 year rituximab response rate is estimated at 20 - 25%. When the rituximab "warranty" runs out and platelets fall, patients with ITP that had a long lasting response to rituximab may respond to another course of therapy. Certain insurances require the platelet count to be less than 30 k/µL before it will be covered.
When they work, the thrombopoeitin receptor agonists romiplostim and eltrombopag generally have lasting effect beyond that of rituximab. The "warranty" period where the platelet count remains above 50 k/µL often lasts 2 years or longer
DRIVING: Cruise control optional?
The ability for a treatment to maintain the platelet count within the goal range is similar to setting the cruise control on a car.
Steroids are given in a pulse (example: dexamethasone daily for 4 consecutive days) or given daily for several weeks (example: prednisone), then decreased over several weeks and eventually discontinued a few months after it is started. As a result, when steroids are no longer taken there is a chance for ITP to relapse
Because eltrombopag and romiplostim are administered continuously, these medications have the highest likelihood of keeping the platelet count in the goal range for the long haul
Rituximab is typically given once weekly for 4 doses, and usually takes several weeks to determine if it is working (see above), therefore it is difficult to predict who will have a lasting response to this therapy
NOTE: Treatment Options listed below are not all-inclusive. Other treatments may be available. ChemoExperts provides drug information and does not recommend any one treatment over another. Only your Doctor can choose which therapy is appropriate for you.
Treatment Options
Share this page:
Created: November 16, 2016 Updated: August 15, 2019